Joined

23 Feb 2012
Messages

90
Hi All,
This is the start of my new project. Its been about 10 years since I built a tank, hence the name of it. This is the first time I am trying an iwugami tank. I have no idea if it will work in a Roma 200 but its all about experimenting isn't it!
It is also worth mentioning that it will be a high tech tank of sorts but done on a budget as I really cant afford some of the amazing rock etc. some of you guys have!
So a list of bits an pieces below:
Tank
Fluval Roma 200 and Cabinet - Gumtree -
£70
(bargain)
Black background (stuck on nicely with rapeseed oil and a bit of gaffa tape (which someone mentioned doing on here, works a treat)
Lights
Swapped built in lid with T5's for an AquaSky LED that I bought for my older tank -
£80

Lights are set for a very long dawn and a very long sunset over the course of 2 hours each. Full sunlight set for 6 hours at 70% intensity. This will be amended as I go on a need to basis.
Heater
Aqua Range LCD Smart Heater -
£32.99

Filter
Fluval 305 -
Free
(long story)
Swapping out standard pipes for glossy black PVC 16mm ID. £11.04
Swapping out standard intake and outflow for lily pipes, not decided which ones yet.

Substrate
JBL Manado - £20 roughly
Wood
Aqua One Azalea Root - £5
Stones
From back garden - Free
Plants:
Eleocharis Acicularis x 2 pots
Moss (cannot remember the name of x 1 pot - 3 pots for £12 offer at P@H.
Co2
Not got it yet (Need to sell an American fridge freezer I don't need to pay for co2 setup) which will be
Co2Art SE-Series with Inline Diffuser. - £143.62 (maybe less if I get a discount code)
So that's it so far. Some pics below of a very dirty messy tank in first stages. I will take a few more next Monday once its been running a week. Progress will be slow until I get the Co2 up and running and the lights turned up so sorry its is a tad boring!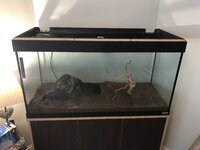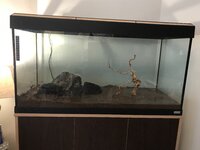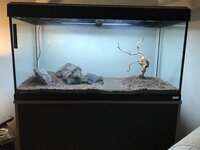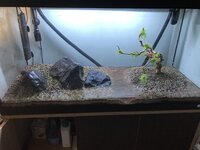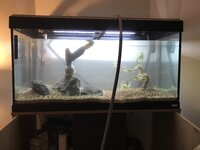 Please criticize as much as possible as I find it very difficult to 'see' correct placement of stones, especially when I cant afford a nice range to choose from.
So there we have it, updates to follow
Jimi