Joined

28 Jan 2018
Messages

36
Location
I will try and take as much pics as I can here.
Before I load up some picture just gonna mention a few things. So i have actually had this tank for nearly 2 years and doing those 2 years it has gone through some changes and at one point it was actually self sufficient which i was proud of, but life gets in the way. So natural priorities come first.
Since starting the hobby i've always wanted a nice lush planted and well "scaped" tank...I mean....who doesn't! Now I finally think I have a chance to do it properly this time. Regardless i'm still on a budget, but I'm hoping to plant as much as I can and use trimmings to re-plant and fill in any gaps. I've finally gone from an Internal filter to an external canister filter Fluvial u4 to an Fluvial 107. I also planning to pick up a CO2 system so this is where the bulk of my money is going. Anyways i'll put some pictures up from start of the tank to where it is now.
Day 1 I decided to start this 1am in the morning due to excitement big mistake xD The filter here is actually an Aqua 200 i think or something like that. Looking back I for sure didn't have enough substrate.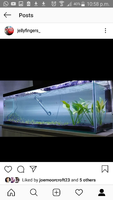 At this point I added dragon stone and Java Moss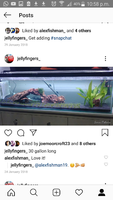 So a few plants have died off and replaced with Hydro and also added some Java Fern (I love this plant). Also bought the Fluval U4 to replace the other filter.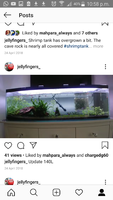 In this photo the java fern went into a different tank for fry since it was the easiest thing to pull out and allowed them to be in cover.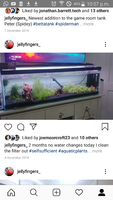 This was the beginning of 2019.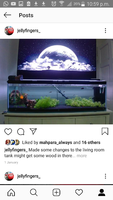 This photo was recently taken. With addition of the Fluvial 107
So the tank has gone through some few changes but I never felt like the scape was good enough (even though my friends love it), which is my fault since I'm kind of an impatient person. I rushed to set it up and to me is shows. Along the lines I did add another layer of substrate which is Sachem Fluorite Black Sand btw. In my re-scape I'm going to drastically change the hardscape and the plants as well. The only plant that has survived the life of this tank somewhat from the beginning is the Java Fern and most of it has gone into my game room tank which has recently been completely redone.
So for this "kinda" re-scape and I say kinda because I'm not taking out the substrate has that will be way too much hassle and waste of BB. I will be pulling everything out hardscape and plants.
So heres a to do list/tobuy
-Break up some of the dragon rock
-Purchase and water log some wood pieces✓
-Purchase and install a CO2 system
-Purchase plants
-Alternanthera rosanervig✓
-Hygrophila siamesi 53B✓
-Micranthemum (Monte Carlo)
-Vallisnera spiralis
-Microsorum pteropus✓
So thats it for now. Soon as I start making more progress you'll see it posted up here.