Hi all,
So the story goes like this...
My daughter got a fish tank 3 yrs ago for her 7th bday as she has a real fascination for fish. So we just had a very standard 60litre tank with artificial plants and Danios, neon tetra's, five banded barbs.
Never really had any dramas so all was good.
However about 6 months ago we decided on taking a different approach and went and purchased a rimless tank to have a go at a planted setup.....
So for any questions regarding lighting, co2 where would be best to ask these questions and ask for advice as unfortunately I do find everytime we leave an aquatic centre we are more confused or finding we are receiving conflicting information, whilst I completely appreciate every circumstance can be slightly different but maybe a simple(ish) guide in layman's terms would be great!!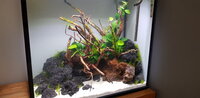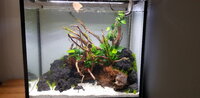 Kind regards Glen