Joined

16 Oct 2020
Messages

34
Location
Hi people,
First thread for me here and first tank in 10 years. What a joy!
I've let this one running for nearly a month with only soil and hardscape in (red moor wood and a variety of seiryu's). No light, no water changes, nothing. Just the bio filter maturing a bit, and me re-filling what was evaporating. Then changed 50% of the water a week ago, and again a couple of days ago. And only today, when I really couldn't wait any longer, I planted.
Details:
Tank is a 13 year-old 30cm cube
Light is a 10W LED bulb at 6,500k
Tropica Aquarium Soil
Eheim mini-up (how tiny is this !?)
Aquael Ultra heater 25w
Plants:
Hygrophila Pinnatifida
Microsorum Pteropus narrow leaf
Vesicularia Montagnei
Hydrocotyle Tripartita (Japan)
Rotala Rotundifolia
You can't really see the rotala yet, it's planted behind the root. Let's give it a couple of weeks and see what happens. Hopefully the trial stage I've endured will help the plants kick starting quick and reduce the risk of severe algae explosions. I should also point out that I use (London's) tap water, treated with Seachem Prime, and that embarrassingly enough I haven't really tested the water yet. Started with 5h of light today and aiming to get to 8 in around 6 weeks. I've also bought Tropica's Specialised Fertiliser but won't dare using it for at least 10 days from now.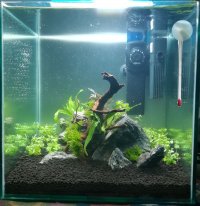 Sorry for the quality of the picture.
Glad to have joined