So my old 45P has been a lowtech tank for a couple of years now. Initially I had the idea that I'd try out CRS in it, but it more or less ended up as temporary housing for fish and a dumping ground for plants. No wonder then it ended up looking like this: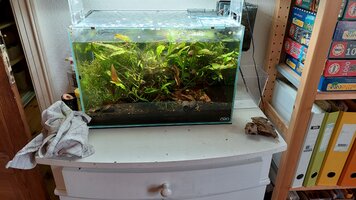 Oof.
At this point the tank held my titteyas, kuhliis and a few galaxies. Also legions of shrimp and malay snails. The barbs eradicated all the Hyalella though. Also a lot of plants, mostly in a not very pristine condition. Actually, most were compost ready...
So, empty tank, move fishies to the permanent temporary tank, save the few plants worth saving, and start from scratch. Some hardscape iterations later I ended up with something like this:
Yeah, sorry about all the extra crap around the tank, it's very much a wip. Details in hardscape subject to change, also need more pebbles
So I obviously need to secure that huge piece of DW, tried with cigarette filters and superglue, big mess. Apparently had not read the manual on that, only thing not getting glued was the stuff I needed to glue. I still have a large rock glued to my left hand, a real nuisance when playing piano...
Giving hot glue a try at the moment, if it turns out good I can get a dry start going, planning quite a bit of moss on the DW here.