Joined

1 Jan 2020
Messages

6
Location
In the days running up to Christmas 2019 I finally got around getting the 900 Aquascaper setup I promised myself as a 2018 Christmas present.
But first off I had to be sure that the tank size was right and that the light wouldn't sit at a height that would cause glare to be a distraction. To do that I bought a few thin lengths of wood and created a dummy tank to test out the tank size and also popped on the light I'd ordered to test out the levels of glare.
That quick wooden sketchup turned out to be £5 well spent and now happy that the glare would not be an issue and chuffed with the size of the setup, especially with lucky alignment to the desk next to it, I ordered the rest of the kit I needed.
Tank - Aquascaper 900
Stand - AquaFrame 900, that the newly released version with an aluminium internal framework
Filter - Oase Biomaster 600 Themo
Pipework - Evo aqua 16mm glass
Light - Twinstar 900s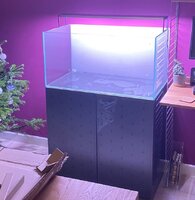 Looking to put together a natural style tank I also picked up the following:
2 x good sized Wine Wood pieces
14kg Millennium Stone
27l ProdiBio soil
9l Tropica soil powder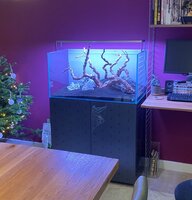 With the tank intended to be viewable from three sides I've gone for an island arrangement with strong structural elements on the left and right side and a more empty center space ready to fill some bulk planting.
I'm a couple of weeks past this point now and hope to fill in the progress from the above state to current situation over the coming days/weeks.
Finally many thanks to all at Aquarium Gardens for helping me get what I needed together on my visit over to see them just before Christmas and also for engaging in the tetris puzzle that was fitting it all into my car.