Joined

8 Feb 2018
Messages

394
Location
I have 6 discus, a group of 4 that hang around together and a pair that stay together most of the time, one of them does visit the group of 4 and then goes back to his/her partner. The problem is that the pair take over 3/4 of the tank regardless of the tank size, they have never bred or shown any cleaning behaviour but if any of the group of 4 come towards them, one of the 2 shoos the others away and pushes his/her? partner into the back corner of the tank.
They are all in a 700 litre Rena tank at the moment but I am wanting to move them into a 540 litre custom built tank that is scaped with some chunky driftwood. Here is the question, do I move them all or give the pair their own tank and just move the group of 4 over?
I bought them all at the same time from the same place and had them now for just over 2 years, even when tiny the pair hogged the majority of the tank so not a new thing.
The two orange ones are the pair. This photo is about a year old and taken just after they were moved into the 700. The blues now are quite a bit bigger than the pair and the other one with the sqiggles on is somewhere between the 2 sizes.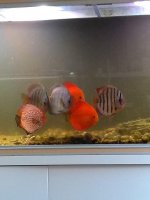 Any advice would be appreciated.