Hi all,
I'm new to the forum, based in Melbourne, Australia. I have a Juwel Rio 125 that I'm going to start as a low tech tank soon, but I have a small issue that could delay the start.
Long story short, after delays waiting for my tank, receiving the wrong tank and eventually getting the right one, I'm ready to get started. The problem is that I am away from home for 16 days early June, and I'm scared that if I plant and get started now, that I will come back to a nightmare of a tank in dire need of help.
I am an eager and impatient man-child, and really excited to get started, but from my thought process and limited knowledge on planted tanks, I have come up with 3 options:
1. Plant the tank and start the cycling process with plants and no fish, go on leave and hope that all is well when I get back
2. Fill the tank and start cycling with no plants or fish, just the hardscape and covering the tank to minimise light and hopefully any algae
3. Stare at an empty tank until the end of June and be sad
I appreciate any helpful hints and tips that can be offered, thanks in advance!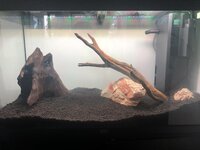 (Apologies for the less than great image, was a quick snap before heading off to work, but it's a start!)