Joined

17 Jan 2010
Messages

306
Location
Never had mayor algae issues in the past 20 years (even made it to an article in a UK aquarium magazine for an interview
) compared to my current tank. In the past i always used the EI method for dosing. Just plain filter sand as "soil" for the plants. Plants did perfect and only had some hair algae when the filter flow was low or when the co2 was running out. But a quick filter clean or new co2 bottle fixed that within a week.
But the plants grew so fast with that EI dosing so i wanted to try lean dosing (planted-box A1O leandosing) with my new tank which is using better light, 2 filters, professional soil etc etc
But the bba, gba etc is hitting and it keeps coming back.
Only thing left for me now what could be the cause will be the low nitrates level.
All other factors looks okay.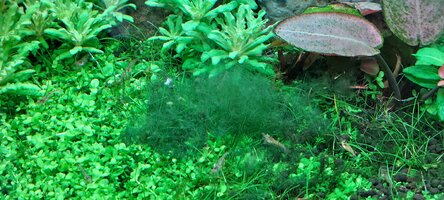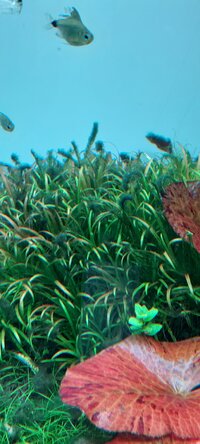 ---------
Setup:
---------
Aquarium
ADA 120P (120x50x50)
Soil
Tropica soil
Light
wrgb2 120cm
running at 70%-55%-70%
light time is 8 hour (turns on at 12:00 and turns off at 20:00) and has a 1 hour ramptime included (12:00-12:30 and 19:30-20:00)
Filtering
1x eheim eheim professionel 4+ 600
1x eheim 2217 classic
all plants are moving no visible deathspots
CO2
starting at 09:00 and turns off at 19:30
checker is green/lime during the light period
checker placed on different positions in the tank and all same levels. No deathspots again.
its running via an inline diffusor. All the co2 mist is in the tank visible and plants are pearling.
Dosing
everyday (excluded sunday because of maintenance) a dosingpump is pumping 16ml of planted-box a1o fertz in the tank at exectly 10:00h
(a dosage of 28ml on 100L aquarium water gives: 0,25ppm FE, 12ppm CA5ppm NO3 and 2,5ppm PO4)
water quality
NO3 = 0mg/l yellow colour, tested with sera nitrate drop tester)
PO4 = 1,0mg/l (sera drop tester)
Maintenance
Every sunday trimmings, waterchange (50%), cleaning glass etc etc
---------
So i am running out of ideas......
Any tips or things i could change/try?
Could it be a NO3/nitrate issue and should i dose extra NO3? (still have plenty off that in a bag from the EI dosing)
What would be a good NO3 to aim for? Are there better NO3 tests on the market (sera can only detect from 0 - 10 - 25 - 50mg/l, so if it would be 5mg/l i cant tell)
I want my fresh/healthy planted tank back like i always had before in the last 20 years