Joined

5 Jan 2021
Messages

3
Location
Hello there world,
My Name is Daniel Illman and I'm from Helsinki, the capital of Finland. I found aquascaping via Youtube for about 4 years ago when I started my first basic fish tank in many years, and have since then been inspired by many excellent aquascapers! Thanks to all the amazing creators out there - you know who you are!
However, aquascaping in Finland is extremely hard to come by due to, well, because it doesn't quite exist here.
A vast majority of people that have aquariums in Finland have never even heard of aquascaping. Because of this, a large number of people are selling their "aquascapes" for cheap because they did not possess the required knowledge and/or experience for achieving proper care or tools for aquascaping, or something even remotely close to it.
I have no one to look up to here in Finland so I am greatful for any tips and tricks I can come by!
I hope everyone has a great aquascaping year!
PS. I attached two pictures of my first "real Aquascape", done with the materials that were easily available in my country (Unfortunately not with all the equipment I would have hoped for / external filter with heater, background film, C02 injection etc.) Have a quick look if you want to!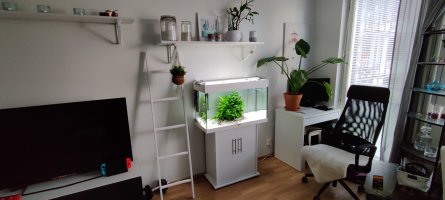 Best regards, Daniel Illman