Joined

23 May 2009
Messages

165
This year I had to replace my tank after the Juwel Rio125 sprang a small leak, The replacement is a Juwel Primo 110 LED.
Knowing the plants had taken a knock waiting for the new tank to arrive, I decided to take photos of its progression. The Rio had been growing nicely so it was upsetting to see many of the plants looking worse for wear by the time the new tank came.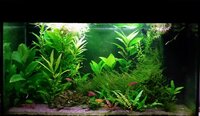 this was the tank before the leak, needing some attention, but plants growing nicely
The tank was set up with cat litter as I really hated the way the black sand got caught in whatever glass cleaner I tried to use. Not a problem with the cat litter despite it being much lighter.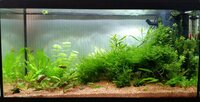 After about a weeks growth in the new set up
I was unsure about the lighting, as one LED Novolux white didn't seem very much and the stated 819 lumens seemed a little low, but decided to wait and see how things developed.
Once set up, I carried on fertilising as before, with Neutro CO2 and TPN+ All in one solution as per James' Planted Tank.
Plants were
Cryptocoryne amicorum, C. bullosa, C undulatus 'Kesselman'
Echinodorus reni
Echinodorus Martii
Hygrophila corymbosa
Hygrophila polysperma
Limnophila sessilis
Salvinia auriculata
Vesicularia dubyana
The photos detail the growth that resulted and I found myself pretty pleased with how the LED light was working out.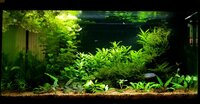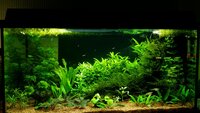 Last edited: