Joined

14 Oct 2019
Messages

14
Location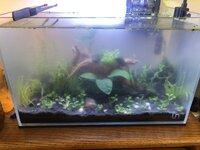 Ive had my 4 gallon planted tank set up for about a week now and the bloom has gone down a little but my plants, substrate, and hardscape are completely covered in bacterial colonies. Most forums say to wait it out and it will eventually balance out. I ended up adding some ceramic pieces to my filter and a lava stone to hopefully give the bacteria another place to colonize.
Should I continue to wait it out? And for how long? Or Should I add anything else (I.e. stock, substrate)?
Right now I have 2 types of wild mosses, java fern, Anubias nana, rotala, duckweed and some grass and foreground plant I can't remember the name of. The substrate is Aquasoil only.