I've done some tanks before, which are to be found here on UKAPS, but now I've made a simple tank, just to house a Betta. This topic isn't so much a 'critique my scape' but moreso the question if a Betta will feel at ease in this tank. I've got this feeling, it's a bit too clean/minimalistic, which I personally like, but maybe the Betta won't.
I went for a semi Iwagumi style, nothing to fancy. With the Covid lockdown, being stuck at home, only having a tank in the attic, I wanted to do a easy, low tech tank just to have some life next to me to prevent me from going mental.
Quick summary;
Tank : Superfish Goldfish LED 36cm x 23cm x 32cm (The person at Superfish should be fired for suggesting this is a proper goldfish tank)
Filter : Dennerle internal filter
Heater : Dennerle mini heater
Lighting : Stock lighting
Soil : Tropica Soil
Plants : - Micranthemum Monte Carlo (Yeah, I've got a soft spot for this plant)
- Lilaeopsis Novea-Zelandiae in the back
No CO2 or anything, just dosing some Tropica Premium. So far I've just passed the two weeks mark, introduced some shrimp from my other tank, they seem to do just fine. When the Betta moves in, the shrimp will go back to the other tank.
Scape: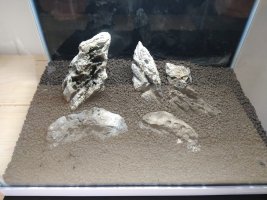 Halfway planting: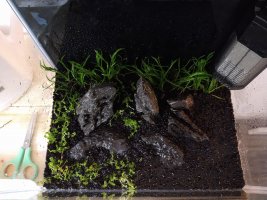 Just filled:
After two weeks: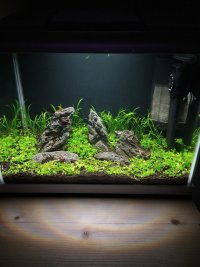 So far, minimal melting of the plants, MC needs to grow in and the Lilaeopsis should grow a bit taller, hopefully . However, time will tell how the plants will hold up. Most important question, will this be good enough for a Betta or should I add some more plants? I like the minimalistic vibe that I'm getting, so hopefully this will be fine. If not, I'd love some suggestions about which plants I could add that won't take over the tank or grow too bulky.