Hi
We have a Cory which looks like it's mouth is rotting away! It started with a small white spot on its nose and has been getting worse. We have treated with Melafix and Myxazin but now the fish looks like in the image attached. I am not sure we can save this one as we have already lost one this way so we're worried it could be something contagious so wondered if anyone had any ideas what the issue could be?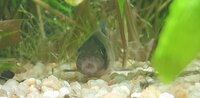 We have 5 of the cories along with several Lemon Tetras, Cardinal Tetras, Ottos, Shrimp and an SAE. The tank is 120l and has been running several years. We have had the Cories for a couple of months and the other fish for longer. I tested the water at the weekend and it showed pH at 7, Ammonia & Nitrite 0, Nitrate 5 and the kH was 5. The temperature is 24.
Thanks for any help.