Joined

15 Dec 2020
Messages

160
Location
Can't work out if this is diatoms or hair algae? Obviously both require different treatments.
• Tank is 3 weeks old, ADA 75p (150L)
• Oase Biomaster Thermo 600 was in my old tank and mature, with 1 1/2L of seachem Matrix, 1 sponge and 2 trays of their plastic balls.
• CO2 injection with a green drop checker.
• Substrate is ADA Powersand Advance L, capped with Tropica soil. Tank is at 23°C-ish.
• Light is Chihros Vivid RGB II, light settings below, was on for 8hrs with 1/2hr ramp time, though today I have reduced this to six hours. Approx 12cm from water surface.
• 8ml of TMC Complete per day, just increased to 10ml this morning)
• 18 Amano Shrimp, 8 Otto's, a fake SAE (I think it's a flying fox, very young, should still eat algae for now), around 80 red cherry shrimp.
Appeared around 3 days ago and absolutely exploded overnight. I've removed a lot by hand and continue to do so, I'll also try get a water change in every day but that's not always possible.
Am I looking at diatoms which will disappear in a few weeks or am I seeing hair algae here? Diatoms doesn't make too much sense to me as the filter is well cycled from a much larger tank, though 500ml of the matrix, which replaced a sponge, is brand new.
Light settings: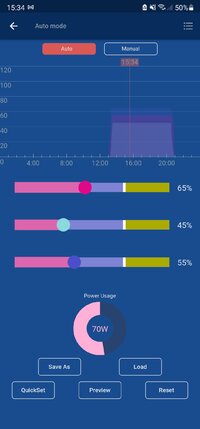 Last edited: