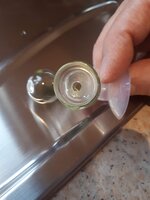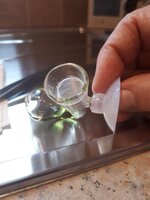 Hi Folks,
My new glass conventional drop checker is giving misleading readings. And I have good reason to believe that it's being caused by a white film that builds up near to the DC entrance. In other words where the CO2 gas diffuses from the water surface to the airspace inside the DC. See attached piccies. One picture shows the film immediately after removing the DC from my tank. The other picture shows where I have pierced a hole in the centre of the film. The film is rubbery and stretchy - a bit like a loose drum skin. This has developed after just
two days'
use of the DC. I don't think it's fungus but perhaps a protein of some kind. But I'm only guessing. I think it's probably organic as opposed to inorganic. Having said that, I do use activated carbon in my external filter but perhaps it's time to find a better product - Seachem
Purigen
, for example.
I did read another similar thread -
https://www.ukaps.org/forum/threads/fungus-on-drop-checker.53359/
- but it was inconclusive.
Any suggestions, thoughts, etc. very welcome as I must find a solution to this.
JPC
Last edited: