Joined

15 Dec 2020
Messages

111
Location
So all three of my tanks are plagued with algae and frankly I'm fed up with this hobby because of it, which is a shame as I've spent a hell of a lot of money on aquariums over the last year I've restarted this passtime.
I've got three tanks as follows:
| ADA 75P (150 litres) | |
| --- | --- |
| Filter | Oase Biomaster Thermo 600, temperature set to 23°C. Extra 750g of Seachem Matrix |
| Light | Chihiros Vivid RGB II, hung 10in from water surface, 8hr photo period |
| CO2 | Inline injected, 4hr before lights on to 1hr before lights off. Light lime green drop checker |
| Ferts | TNC Complete - 7.5ml per day with dosing pump |
| Substrate | ADA Power Sand Advance, capped with Tropica Soil and Powder. Some Hugo Kamishi fine gravel. Substrate has well buried ADA Multi Bottom's |
| Other | Fluval UV steriliser, dosing with 3ml TNC carbon daily (standard dose) |
| Plants | Loads, hundreds of the things, from carpeting to stems in the background, moss, epiphytes etc |
| Livestock | Cardinal Tetras, pair of Nannacara, Pair of Apistogramma, Corys, 20 amano shrimp (may be fewer, but that's how many I bought), 8 ottos, over 100 RCS when they were put in, not seen any since of course. Also pruchased one Royal Farowella specifically for eating staghorn algae. |
I'm a little embarrassed to show this tank on UKAPS because I had grand ideas of how I wanted it to look, only to fail and then get covered in so much algae I've lost interest in keeping it well trimmed. I've just done a water change so the drop checker isn't as green as I'd expect it to be. I've had huge diatom issues which seem to have gone, but it's this thread like algae which coats the edges of leaves which is my main issue. There is also cyanobacteria around the marsiliea crenata at the bottom (removed at water change, so not in picture), but green algae on the glass isn't a huge issue.
I don't think the scape lends itself massively well to flow, I do want to change it (mostly because I hate the way it turned out) but the thought of getting all the fish and shrimp out is a little daunting as I lost a lot of my livestock last time I did this. The Biomaster 600 has had a few modifications, such as orange pre-filter sponges, extra holes drilled in pre-filter tubing, two internal sponges removed and replaced with Seachem Matrix etc. Flow from the filter is as good as I'll get it from the unit and should be ample for a 150L tank.
I have even directly sprayed the tank during a water change with glutaraldehyde, which killed a lot of it, but it just came back within 2 weeks. Interestingly a lot more of it is down by the substrate, not up close to the water surface.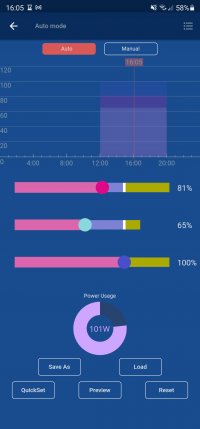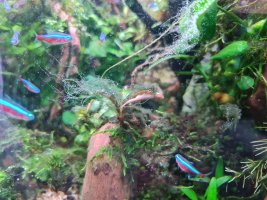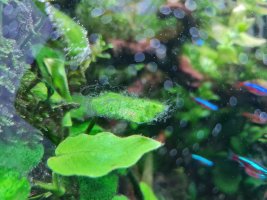 | APS 60cm tank (90 litres) | |
| --- | --- |
| Filter | Oase Biomaster Thermo 350, temperature set to 23°C. Extra 250g of Seachem Matrix. |
| Light | Chihiros WRGB II 60cm, on standard height legs, 8hr photo period |
| CO2 | Twinstar Diffusor Large, 4hr before lights on to 1hr before lights off. Light lime green drop checker |
| Ferts | TNC Complete - 5ml per day with dosing pump |
| Substrate | Mostly Hugo Kamishi fine gravel. Some small areas of Tropica Powder, no more than 1L worth. |
| Other | Dosing with TNC Carbon, 2ml daily. Eheim Skim 350 surface skimmer. |
| Plants | Mostly epiphytes, java ferns, anubias, buce etc, along with hydrocotyle tripartita. |
| Livestock | 10 Green Tiger Barbs, 6 Green Venezuelan Corys, 10 Amano Shrimp (again, not seen since but the barbs don't go near the plants, just bully each other) |
This is my latest tank, it was made because I had a load of java fern in a bucket, along with a cheapo All Pond Solutions tank which was sitting unused. I threw together a stand and this is what I came up with. The light currently isn't central in the tank as I'm an idiot and put the surfacing wood in the centre, but the light will soon be hung and therefore be around 2 inches higher and clear the protruding bogwood.
Algae wise, I'm getting the same hair like algae and huge amounts of algae on the glass. I did go through a diatom spike in about week 3 but that cleared within a week as expected. I appreciate I don't have any faster growing stem plants in this tank and expected some algae, but it's strange that it's identical to the above tank.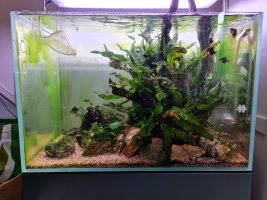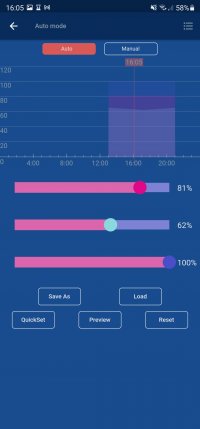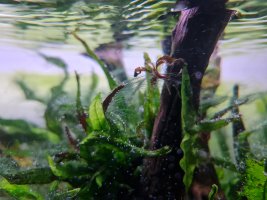 | AquaEl Shrimp Set 20 (19 litres) | |
| --- | --- |
| Filter | Oase Filtosmart 100 Thermo, set to 24°C |
| Light | Standard light with kit, 8hr photo period |
| CO2 | Injected with Twinstar small diffuser, on 24hrs because I'm too tight to pay for a solenoid. |
| Ferts | Seachem Flourish, double dose once a week on water change. |
| Substrate | ADA Power Sand Advance, capped with Tropica Powder. |
| Other | Using RO water, buffered with Seachem Replenish. TNC Carbon, 0.5ml per day. |
| Plants | Carpeting, anubias and stems in the background |
| Livestock | Two pea puffers (I realise people say don't keep them together but I've always had zero issues aside of getting them to bloody eat) |
This is by far the tank I've had the most issues with and thus is now being neglected the most out of pure frustration. As you can see, like my other tanks, it's over filtered, in this case I've got 32x tank flow (!!!) but use a spin pipe so the poor residents don't get plastered to glass unable to move. CO2 is showing a nice lime green but only I don't turn it off on this tank because it's only got a cheapo valve. Light is the standard one that comes with the box, seems good enough to grow some things but sadly the marsiliea crenata has grown really leggy, so I'm not sure it's enough for a good carpet.
This is the only tank I've thus far tried the blackout method with to try and control the algae with. I draped a load of towels over the tank so no light could get in and added an air stone for 5 days without peeking. It killed what was in the tank, but as soon as that died it came straight back. I get the same hair like algae and whatever the hell that is covering the rotala. This tank has also had the glutaraldehyde spray during a water change, but again, fixed it very temporarily.
It's got a little overgrown recently, but the algae makes it look far worse than it actually is.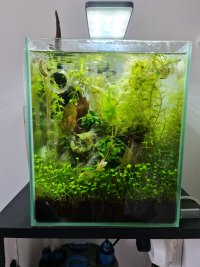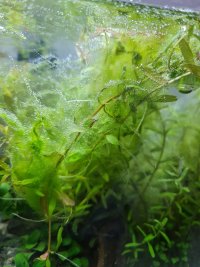 I've played with photo periods on all tanks, from 6 to 8hrs and it seems to make bugger all difference, likewise RO vs. tap water with the smaller cube. The only constant in them is that they all have tropica soil of one flavour or another in them, but even that my 60cm tank has less than a litre in it.
Can anyone help me out on this? I'm completely fed up with the tanks looking so bad and would love to go back to enjoying this great hobby rather than treating it as a battle. As you can see above I've tried a fair few things, I've spent good money on the right lights/filters etc and whilst I know many will suggest EI dosing, I would prefer to stick with TNC complete as it's both easy and I don't find the price to be debilitating. I also need to have my ferts in liquid form so my auto-dosers work when I'm away on work if covid ever goes....
Help greatly appreciated!
Ian
Last edited: