Hi!

Intro
For years I have read journals here at UKAPS and other forums, and I finally have the opportunity to set up a tank myself. I bought the equipment a few years ago, but haven't had the opportunity to set it up before now.
This is my first attempt at creating a planted aquarium. My goal is to be able to balance light and nutrients, and grow healthy plants. I am prepared to fail, and I am kind of expecting to. I hope you guys can help me out when troubles occur.
Equipment
Tank: TMC signature 60 cm x 45 cm x 30 cm
Stand: TMC black
Light: Finnex planted + 24/7 cc
Filter: Eheim classic 350 (2215), Eheim filter media
Heater: Eheim aquarium heater, 50 watts
Lily pipes: VIV

Soil
Tropica aquarium soil

Hardscape
Root/branch: Unknown
Stones: Mini landscape or similar

Plants
As I was too impatient to order plants, I bought what i could find at my LFS:
- Bucephalandra sp. 'red'
- Cryptocoryne wendtii 'green'
- Hydrocotyle tripartita
- Lilaeopsis brasiliensis
- Limnophila
- Ludwigia palustris
- Micranthemum 'Monte Carlo'
- Microsorum pteropus 'trident'
- Vesicularia ferriei 'Weeping'
I am not sure about the Monte Carlo, but want to give it a try.
Fertilizer
Tropica specialised nutrition
CO2
I will not add CO2 (liquid or gas).
Day 1
Due to bad planning and limited time, the hardscape was a little rushed. I feel like the root is a little misplaced, but this was my best attempt.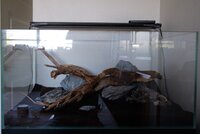 I also made a huge mistake and poured water too fast into the tank. Some plant were uprooted, some covered in soil, and some covered in black dust. After planting it looked like this: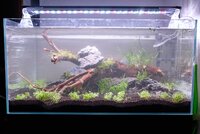 Day 3
Added some plants. No noticable growth. I dont see any algea.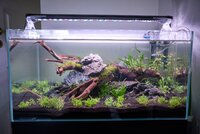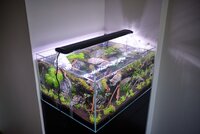 The light is on 60% power since i don't add CO2 and my tank is shallow. It is on for 10 hours. I plan to dose 2 ml tropica specialised every day. I am excited to see how my tank develops.
I appreciate any comments or suggestions.
Cheers