Hi Everyone!!
I have been having some small problems with 3 of my plants this last days and I don't know why tbh.
Tank
Juwel Rio 180l
Light
MultiLux LED | Kelvin 9000/6500 | Lumen 5290 | ON for 6h a
Pump
Juwel Ecoflow 1000l/h
Filter
Bioflow M Original
Temp
- 24-26c
Water
- Hard water
Fertilization
- EI Method
CO2
- I use liquid CO2 Easy Carbo 3/4ml 6 days a week.
Sunday 50%WC and I do not put any Liquid CO2.
Plants
Amazon Sword (Aquaflora)
Cyperus Helferi (Tropica)
Staurogyne repens Tropica (1-2 grow)
Alternanthera reickii (Aquaflora)
ludwigia repens (Aquaflora)
Fish
10 zebra danio
10 zebra danio
2 molly
4 golden Gourami
10 Amano shrimp
Cherry Shrimp small colony
My Cyperus Helferi has not stablished at all and started to melt a week after I planted it. I have trimmed the brown bits but took few days to start going brown again. Planted a month ago.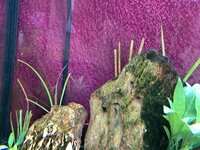 For the past 2/3 days, I've noticed that my Alternanthera reickii mini started to 'grow' some holes. I don't think it's the shrimps as they're not out that much - unless they come out during night. Planted a month ago.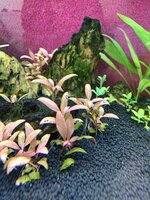 And then, my staurogyne repens... I love this plant but since I planted them, same time as the reickii, this is how much they grew and doesn't look they are establishing well too...Planted a month ago.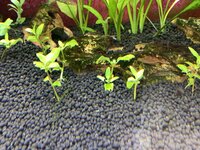 I don't know about the ludwigia repens rubin, but since I planted - same time as others, it barely grew. I can see 1 is slowly growing, the other 3 are still pretty small.
I do have BBA on my dragon stones and in the Amazon swords, which since I started using the liquid CO2, is slowly disappearing. The green spot algae, after a good clean on the tank is now kind of controlled.
My shrimps are hiding at the moment. The amano shrimps I see 1 or 2 out on the 'wild' sometimes, the others stay behind on of my Dragon stones. The cherry shrimps I believe hide at the bottom of my filter. Today after my water change, I saw quite a few babies at the back of my tank
bow, whenever I do my WC, all my amano shrimps come out - a phenomen I don't know why haha
full tank photo (sorry the quality hehe)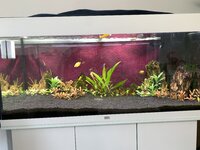 I would be great full if someone could help here - Thanks
I would be great full if someone could help here - Thanks
Last edited: