Joined

15 Dec 2020
Messages

111
Location
So this has been plaguing me for a while now and I can't quite work out why. Hopefully some experienced folk on here can assist.
My tank is a Juwel 350L tank, running the stock filter plus an Oase Biomaster 600 Thermo. Lighting is some home brew setup which should be around the 8000 lumen mark (I'd call it medium lighting), CO2 injection (light green drop checker) from 4hr before lights on to 1hr before lights off. Ferts dosing is 35ml of TNC complete per day via a dosing pump, as advised by Aquarium Gardens.
Plants wise, lots of stem plants in the background, big pieces of bog wood covered with epiphytes. I'd say there are well over 100 individual plants in the tank. Substrate is, unfortunately, Seachem Flourite.
Fish stocking is around 30 tetras of various species, 8 Sterbai Catfish, 2 SAEs, a single whip tail catfish, a blue ram, 10 Nerite Snails and about 6 or 7 Amano shrimp.
Water changes are 50% weekly with tap water. My tap water comes with around 30ppm nitrate.
My issue is nitrates. Ammonia and nitrites read as zero, but nitrates are often as high as 120+ppm. The tank has little algae, just a small amount on the glass which the snails munch away at, but otherwise is clear. I've had some melt from some plants but that's starting to stabilise now. The fish are fed every two days and the rummynose are so piggish they wouldn't let a scrap go to waste.
What could be causing such a high nitrate reading? I know TNC complete has nitrogen in it, could I be overdosing?
Here is my API master test kit nitrate colour, it's pretty strong.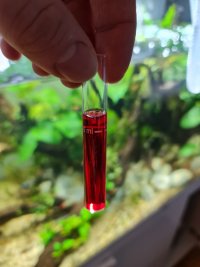 I did a 50% WC yesterday and may do another today. Is there anything else I can try to improve my nitrate readings?