Joined

10 Mar 2018
Messages

455
Location
Hi All
I'm just wondering what people are using for inflow filter guards.
I started off without but found a collection of half dead cherry shrimps wedged into my glass lily pipe. That were impossible to get out whole. I'm running reasonably high flow 4000lph through a 16mm lily pipe so they got stuck solid.
Next thing I bought was a stainless mesh guard for £2 off flea bay but it dropped to bits in a couple of days.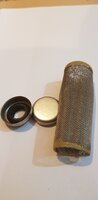 I then changed to a really course foam filter, this worked well but when I came to clean out my canister filter it was mixed with baby cherry shrimps, some of them surprisingly large making cleaning the filter very time consuming.
Finally I've switched to using a pair of fine foam filter, this works well but with the high flow and large stocked tank I have to clean it every few days. If I forget my pump cavitates and the temp plummits (inline heater)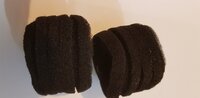 Looking online I came across these, has anyone tried them.
Any better options?