So as my new tank cycles, having added Tropica Substrate and Aquarium soil, I expected that I would have to keep an eye on the kH and gH for the first while. However, when testing with the Aquarium Labs dropper test set, my gH shows at 6 (which is in the correct range for the type of fish I am looking to keep), but the kH shows as not existing, as in 1 drop turns the yellow to blue. So I thought wow, this Tropica has really taken a hit on the water... My pH tested at 6, but after looking at the kH reading, I am concerned it could be lower, as 6 is the lowest the test goes....
I had not tested the kH on the tap water before for one reason or another, so decided I would test that to see just how much it had dropped... That also reacted in exactly the same way.....
So it appears the local tap water has no kH whatsoever. I figure I need to use a buffer, but can anyone tell me which they recommend the most? Have seen this one....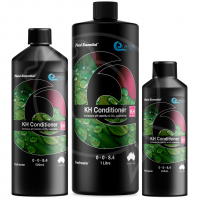 But don't know anything about this company? It seems a fair bit cheaper than Seachem (which just about anything else is), but is it decent? Any other recommendations? I want to keep Amizonian type fish, so Tetra and APistogramma for the best part, so low pH is not too much an issue, but would like to stabilise it around 6.6 to 6.8.
Cheers
G!