Joined

18 Apr 2017
Messages

165
Location
I am copying this post over from my journal (
Tank Reborn
) in the hope that someone 'in the know' with lightning might help me out. I am avoiding the 'Algae' forum for the minute as I believe my issue is light.
I have noticed the first signs of algae in my new tank but am hopefully catching this early so I can avoid any disasters! Plant growth appears good and the plants look healthy. I had to trim down my rotala this week as it reached the surface. I am using the frogbit as my guide for when to dose ferts.
Am I correct in seeing staghorn on the vallis and some form of BBA (of a reddish colour) on the java fern? Or are they both BBA? It also appears to have attached to one of my fishing wires for holding down the wood - you can see one clear white wire and the other covered. Regardless as to the type of algae, I don't really want it!
I'm not dosing ferts in any major quantity or running full CO2 (in fact this is heading towards zero now) so would I be right in thinking my light could be the issue. Switching to LED from two T5s was an unknown arena to me. I have a JBL LED Natur (57w) and Effect (16w).
Having never used LEDs before, am I better off reducing the photoperiod or the intensity (I think I can do that using the WiFi controller by changing the red, blue, green, warm white and cold white LEDs - is there a 'better' mix of lighting to go for? I tend to stay away from the pre-programmed 'biomes' as they run a 12 hour light period I believe).
My lighting is currently running a 1 hour sunrise, 7 hours on (with a slightly darker 'cloudy' hour midway through) and ending with a 1 hour sunset. The main lighting is set as shown in the image. I'm not sure if the values have meaning or are there just as a guide.
Any thoughts are welcome as after all my hard work I want to nip this in the bud before it takes hold.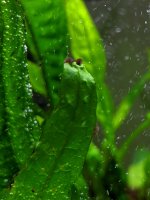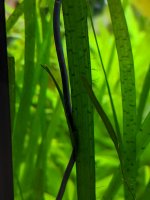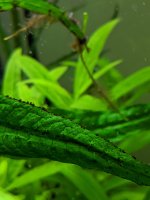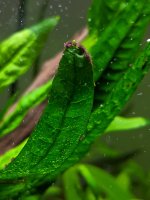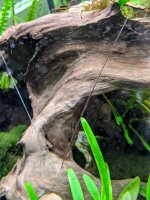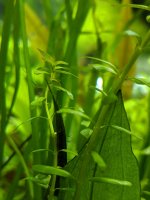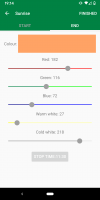 Last edited: