I needed to downsize because there's only so many and so large tanks that can work on my boat, so last year I set up a 45cm AG tank to replace the 60cm Monstronarium i.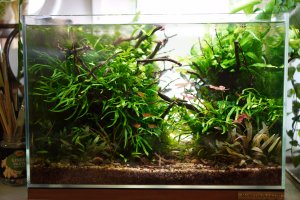 It's now been planted for 11 months, and has been through a few stages but all of them building on the first planting so far.
Lighting is an ONF flat nano (from Aquarium Gardens) and a small spotlight.
Filter is an Oase biomaster 60 (is that the name of the small one?)
50w aquael heater.
CO2 directly bubbled into the inlet of the filter.
Gravel substrate with crushed Seachem Flourish tab layer (occasionally added to).
Redmoor root, some of which is mounted on suckers to the back of the tank.
Foraged Apple, Alder, Ivy, and Willow wood.
Last edited: