Joined

20 Feb 2020
Messages

5
Location
I'm attempting to dry start fissidens fontanus and riccardia chamedryfolia driftwood. This setup has been going for about two weeks and I wanted to share the progress! I chose to do this because they were small amounts of leftover mosses, and the aquarium wouldn't be ready to set up for some months. I hoped this method would help the moss to propagate rapidly and make the aquarium instantly look more mature.
I initially attempted to use the yogurt method, cutting the pieces very small as I had no blender. Unfortunately, the mix was not thick enough and the yogurt was rinsed off within a couple of days. My next problem was that the wood had never been submerged and was dry. In the first few days, I sprayed the moss every hour, as the wood would absorb any of the water and dry out the moss too quickly. Eventually, I relented and added a pool of water at the base of the aquarium. This has helped with the humidity and now the wood is wet enough that I don't need to spray regularly. I highly recommend waterlogging your wood before a dry start.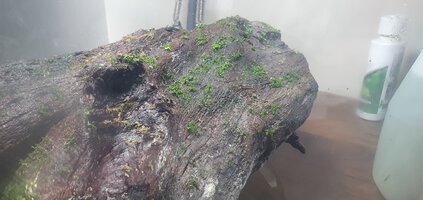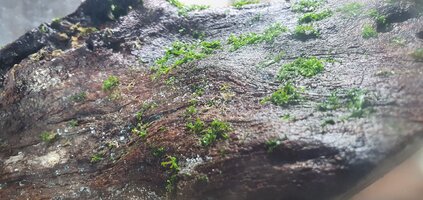 As you can see, there is some significant mold (another reason that wood was a poor choice). The dead and browning moss is due to my attempt to kill the mold with flourish excel. This caused much more harm to the moss than the mold... I don't recommend this strategy. The riccardia is starting to show growth and some spreading over the wood which is great! The fissidens suffered the most from my glutaraldehyde attack but is looking like it will make a comeback. One thing that seems to have really spurred on the moss is an addition of ferts to the misting spray a couple of days ago. I assume without the yogurt base, the moss was feeling starved of nutrients.
The top is wrapped with cling film but over the past week, I've added more ventilation until it has become mostly hole. The moss stays moist due to the damp wood, and I am hoping lots of ventilation will control the mold.