It's been a while coming, so thought I'd post a journal entry for my first high tech aquascape. The first step was to build a suitable stand. For more info on that experience, check out
this thread
.
Overall, I'm quite pleased with how it's turning out
I designed the aquascape to be viewed from the front, as well as the right side, as the right side is what is seen when walking past or into this room.
Stand and Aquarium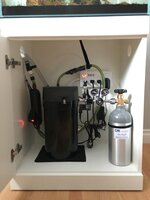 Hardscape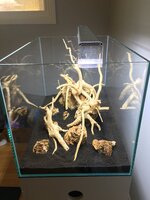 Planted (After 3m)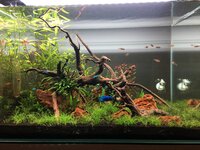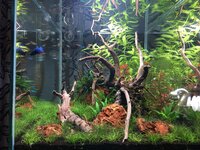 Aquarium - FireAQUA 25 gallon rimless (60 x 40 x 40 cm, 8mm thick)
Tech - Eheim Classic 600 (2217) canister filter, Co2 Art Pro-se regulator, CO2Art Inline CO2 Aquarium Atomizer Diffuser, Hydor 200 inline heater, Chihiros RGB A 601 Plus (New 2019 model w/ 3 in 1 led's and bluetooth).
Plants - Hygrophila polysperma rosanervig, Eleocharis acicularis 'Mini', Cryptocoryne wendtii 'Green Gecko', Microsorum Pteropus 'Trident', Anubias nana 'Petite', Bucephalandra 'Wavy Green', Rotala 'Green', Cryptocoryne albida 'Brown', and a few others.
Livestock - 12 green neon tetras, 8 harlequin rasboras, a female betta, 6 amano shrimp, 3 horned nerite snails, 2 batik nerite snails, 2 king koopa nerite snails, 1 black military helmet nerite snail.
Dosing - 2ml per day NILOCG Thrive all in one liquid fertilizer, .5ml per day Flourish Potassium, 2.5 bps c02, fish fed once a day.
Last edited: