I have finally got the new scape set up and it had its first day running today.
My setup is Eheim Pro 4+ 350 with twin jet nozzles, Hydor Koralia nano 2200 to help with flow, all 3 outlets are pointing towards the front at approx 1/3rds.
Co² coming via Fe with Qanvee inline.
Lighting profile
https://www.ukaps.org/forum/threads/mountain-range.55755/page-4#post-543719
I did do a ph profile (notes in pic using ph pen).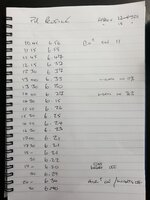 I had a very pale blue/green at approx 15bps. Tank was fizzing

see pic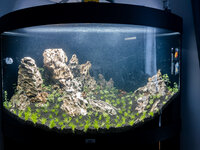 Base (fresh only flooded last night) water Co² had not been on yet, PH was 6.56
Lights at max temporary 70% at 14.00, PH 6.27
Correct me if I'm wrong, Using the above numbers I'm only getting a .3 of a drop

. Now my options are to either increase the BPS or shift time to 3hrs pre light.
Which is my better option?