Joined

31 Aug 2020
Messages

31
Location
After my nitrification priming
experiment
I have decided to do the same but with different filter media types. So I have chosen 4 candidates for this test at July 16:
HelX rings: I've pushed them in a filter bag to avoid 'cheating' with free floating
20 PPI foam:

Used Seachem Matrix and some ceramic rings: I have soaked them in NaOCl for some days, then washed with Hydrogen Peroxide and finally with water and Sodium Tiosulphate to remove chlorine
Blue matala mat
So here is a picture of the bottles:
I have attached to each bottle an air stone trying to cover the most of the surface (in case of ceramics, I had to fix the filter bag close to the bottle top, so even ceramics was like 'floating' in a stream of bubbles):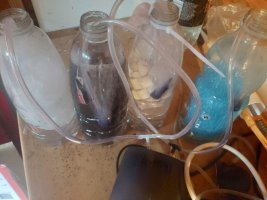 Then I've added my tap water (with chlorine removed), 2ppm ammonia and the same 'seed': 1ml of Seachem Stability and some garden soil.
In the first weeks I've measured ammonia adding new portion of ammonia (from NH4Cl) once its level was depleted.
After one day I could see nitrification started merely in HelX rings: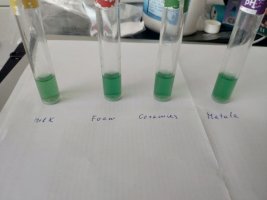 After three days: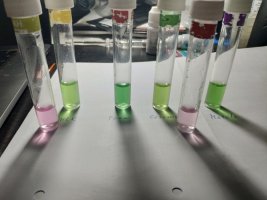 So I can clearly state that the ammonia stage of nitrification started quite soon, but how powerful it was...
The problem was that nitrites level were very low for theoretical ammonia oxidation. E.g. for each mol of NH4 it must produce 1 mol of NO2 which has much higher molar mass. Indeed, on the next week of the experiment I've seen a completely different picture.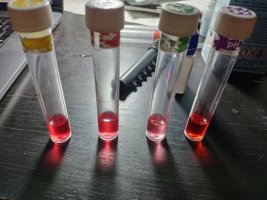 Nitrites were much lower in the Ceramics sample and I could not explain it by just the 'superiority' of ceramics. I wish I could measure nitrates, of course, but aquarium nitrates tests are way too coarse to catch any difference counting that my tap water has high nitrates as is. I have asked this question to the author of the
aquariumscience.org
(Dave) and he presumed that this effect might be caused by assimilatory denitrification: so heterotrofic bacteria like had eaten some of the ammonia to oxidise the remaining organics in my 'used' ceramics. It seems that his conclusion was totally right and to be honest, Seachem Stability was also 'cheating' in the same way: it added heterotrofic bacteria which had used extra ammonia without Nitrite/Nitrate conversion.
During the next week, I have found much higher levels of nitrites than it were initially (I've added the same ammonia levels and changed 100% of water at some point).
So during the second week I've found that 3ppm ammonia were oxidised in 3 days: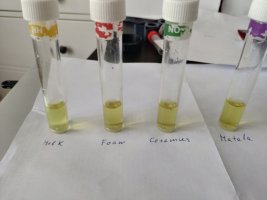 But the nitrites levels were totally different: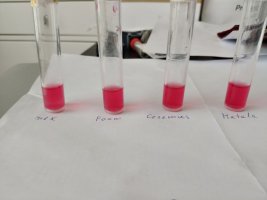 So I've spent the next month by adding ammonia and measuring nitrites till the point when the nitrites oxidation speed grew to the acceptable point. During this time, I have tried many things like sugar or urea to understand their influence on the bacteria (e.g. sugar definitely inhibited nitrifiers, presumably because of the concurrency for oxygen, whilst urea had some small positive effect). And all the time, plastic rings were the best in terms of ammonia/nitrites oxidation performance...
Nonetheless, a couple of days ago, I have changed the water and added 3ppm ammonia as usually: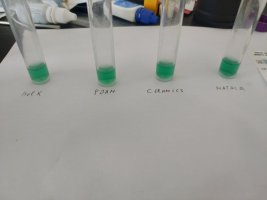 Measured ammonia after 2 hours: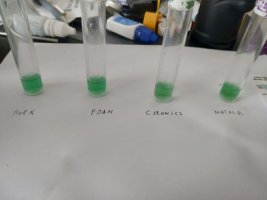 Then after 4 hours: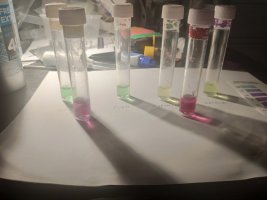 (as you can see, ceramics was quite fast in terms of ammonia, but HelX seemed to be more reactive in terms of nitrites).
Then after 6 hours: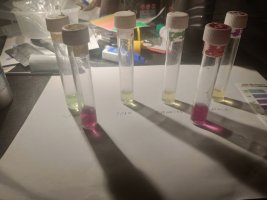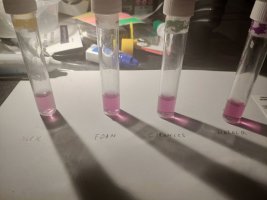 And after 18 hours (nitrites only, as ammonia was apparently 0 everywhere):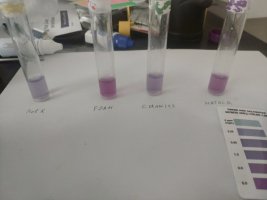 So after this experiment, I can conclude merely one thing: there is no significant difference between filter media in terms of pure nitrification. Of course, in a real aquarium pure nitrification is just a small fraction from the full nitrogen cycle especially when it comes to the surface requirements...
All media is visually and sensibly clean: no signs of mug nor dirt, so it seems you cannot really observe nitrifiers, unlike heterotrofic bacteria in your filter. It also seems that you cannot just 'cheat' mother nature by trying to seed your nitrogen cycle: it soften the peaks but the full establisment indeed takes a time. You can also cheat this process by using of good bacteria from the bottle but it doesn't look like it helped over time: I still had to wait for a long time to establish nitrites phase.
I have also tries to inhibit nitrification activity on foam and matala mat by washing the foam and adding chlorine to matala mat, but it seems this post is already too heavy for these results, so I'll post update in the reply.