Joined

4 Mar 2020
Messages

74
Location
Hi.
Thinking about swapping out my fluval 3.0 46w light for something else. It isn't bad, but I feel like I could do better. I like that it's super easy to program and customise via the app and Bluetooth but so long as I can do better with a different light, something that'll actually be more beneficial, then I'm open to suggestions.
I have a Oak hooded tank, I'll attach photos.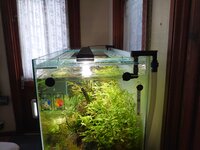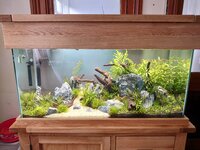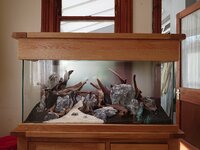 I have a 99.5 (W) x 40 (D) x 50 (H) cm, 200L tank. ADA substrate system, C02 injection, TNC complete ferts, Oase BioMaster Thermo 600 using default spray bar. Pretty well planted with the following species of plants.
Blyxa Japonica
Hygrophila Polysperma
Ludwigia Arcuata
Micranthemum Micranthemoides
Rotala macrandra green
Rotala rotundifolia
Cryptocoryne albida Brown
Cryptocoryne Petchii
Cryptocoryne Wendtii Brown
Marsilea Crenata
Eleocharis Acicularis
Bolbitis heudelotii
Microsorum pteropus Trident
Taxiphyllum Barbieri
What is the best light for me, here in the UK? Thanks. Was thinking about the twinstar 900sa but if there is a better alternative I'm open to suggestions. Obviously it has to work with my hood. Needs to be able to lay on the glass as my current one does.
Last edited: