Hello everybody
,
My betta is usually blue. But since few days, her head is becoming white. I suspect that she's sick. She's also breathing faster than usual, but there are no other symptoms. My betta is active, seems happy as usual. Like nothing happened. I want to precise also that she has the swollen belly (but that is since 2 months).
My other female betta in the tank has no problem.
I have cyanobacteria (blue-green algae) in my tank since 2 weeks, maybe it's correlated.
The only change I made is adding new plants 3 weeks before. So, no big change.
I give in the tank Tee Tree oil since I saw white coloration in my betta head (in fact, this oil cured my other female betta like 3 months ago for another disease). For now, it doesn't changed anything.
I saw that it can be white head disease, but my betta is not lethargic, she eats a lot like usual, keeping dominating my other female betta with no problem.
My aquarium is a filtered29 gallons or 110 L for 2 female bettas, is 25 Celsius or 77 Fahrenheit, I have 0 ammonia, 0 nitrite and unfortunately, 0 nitrate (some of my plants doesn't enjoy that...).
I am not an expert so I would like from you some advices, as I started this hobby 4 months ago.
Thank you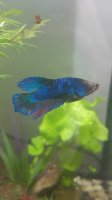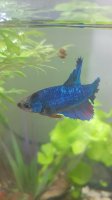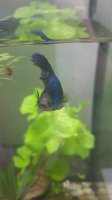 Last edited: