Joined

23 Jul 2017
Messages

125
Location
Rescape time -
After claiming the dining room for myself for 23 hours, a few coffees and a back ache later it is finally done! I tore the old scape down and rescaped in one sitting. Reusing pretty much everything. Only a couple of plants are new.
Had an idea for what I wanted in mind but didn't try the hardscape beforehand, it was done pretty much in the moment. Quite refreshing to do it this way actually.
Note to self: if you plan to rescape soon then don't trim your plants just before you do it. When you have four types of similar looking Rotala that are freshly trimmed and not properly grown it can be hard to know what is what!
The specs
Tank -
TMC signature 600 (60x45x30), custom cabinet
Filter -
Oase Biomaster 250 with Aquario Neo media and ceramic rings, poppy lily pipe and inlet skimmer
Light -
Chihiros WRGB2 45cm hung from ceiling
CO2 -
Pressurized with Qanvee inline diffuser into a Sunsun canister used as reactor
Substrate -
old Tropica Soil, ADA La Plata sand
Hardscape -
Seiryu Stone and Talawa Wood
Ferts -
DIY mix
Plant list
Stems -
Rotala sp. Green, Rotala Rotundifolia, Rotala Orange Juice, Rotala H'ra, Myriophyllum Guyana, Ludwigia Mini Super Red
Epiphytes -
Bolbitis Heudelotii, Microsorum Pteropus Trident, Anubias Pangolino, Anubias Nana Bonsai, Bucephalandra Kedagang, Hydrocotyle Leucocephala
Moss -
Weeping moss
Ground cover -
Eleocharis Mini, Helanthium Tellenum Green, various Cryptocoryne species, Nymphaea Zenkeri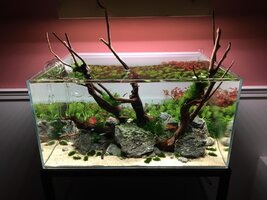 Thanks for watching.