Joined

19 Nov 2011
Messages

207
Location
Haven't been around for a few years but am now planning to start a new scape.
This is the previous set-up and it's been very low maintenance for a couple of years now, so there's been a build up of Black Beard Algae as I discarded the CO2 injection.
What's the opinion on moving plants from an old to a new set-up, as I can't face throwing big plants away.
I'm planning to leave the Anubias in a bucket in the dark for a week or so. And as there are some snails in there is it worth adding some sort of snail killer at the same time or am I really wasting time doing all this. Any thoughts or suggestions here.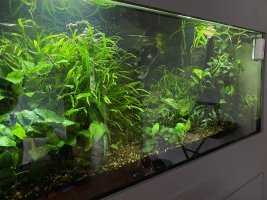 I think the Microsorum Narrow will have to go though.