Hello, i decided to make a new journal, I can't continue the other one because the tank had a leak, I've been running the new one for about 4 months, I used estimative index which was a nightmare, I tried lean dosing KNO3, which increased stunted growth, and since near 2 months I've been using urea with osmocote, there is less stunted growth.
I'll make a list of all the parameters to get a better picture of that tank :
Tank is 30 gallon + 4 gallons with the filter
Light is 2* t5 24w 438mm + 1* superfish retroled 10w, Photoperiod is 7 hours, light is medium I think
I use RO water (7-8 ppm) I add 30 ppm Cacl2 + 10 ppm Mgso4 which gets around 6 dGH, KH is 0, the temperature is around 25-26°c/78°F
In the bottom glass I used 120 grams of tetra initial sticks, the substrate is tetra active substrate which is baked clay, I don't know about the CEC, but all I can say is that tetra initial sticks are not enough to grow healthy plant
I use a Tetra EX 1200 plus filter, which is 10* turnover
I use 24/7 CO2 with inline diffuser, the drop is always green, I have unlimited co2 fire extinguisher
I use osmocote 22-7-14 + micro, nitrogen form is 19% Urea, 1+ ammonia, seems to be no leak, TDS is always near 240 PPM
1 have 6 cories, red cherry shrimps and 1 bristlenose pleco, that's why I can't lower GH
I dose 2.26 N of urea (0.3 a day) 0.22 PO4 (0.03 a day), 5 PPM K2SO4 weekly, 3 times easylife profito per week to reach around 0.1 ppm DTPA Iron
20 liters water change weekly
Global picture of the current state of the tank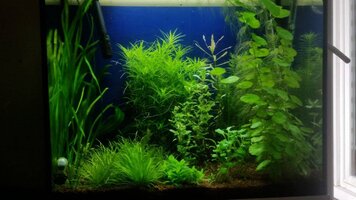 Filter I use :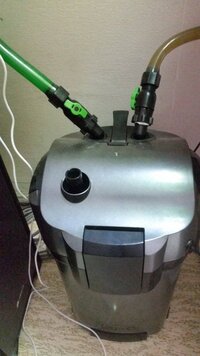 Lily pipe outflow, little surface agitation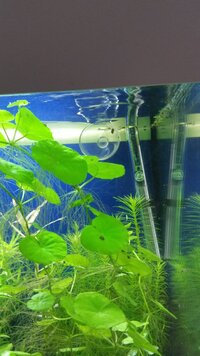 back t5 used with retroled on the back of the aquarium pointing downward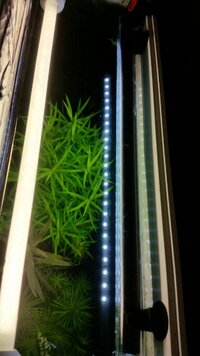 Front t5 bulb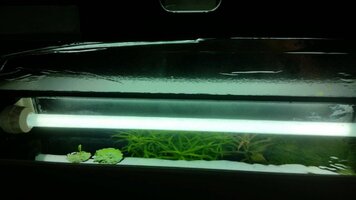 Echinodorus baheri which grow better since I dose urea, could be the osmocote tough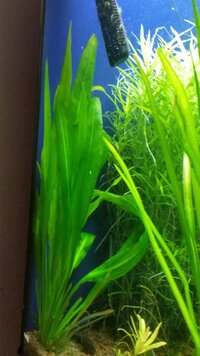 Blyxa japonica is kind of okay, I still don't know how people grow massive bush of it though, maybe need some time ?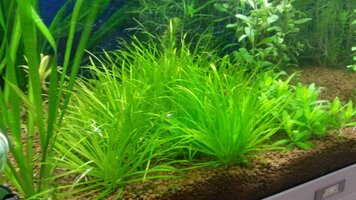 Here's a plant I don't understand, supposed to be easy, damn she's slower than cryptocoryne, and sensitive to algae, hard to not get staghorn on it... the growth you see is 4 months, still don't know why...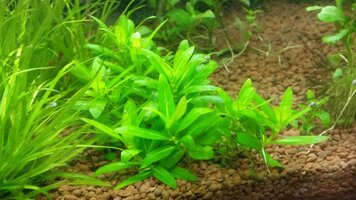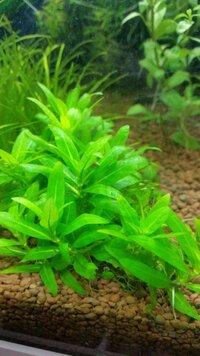 Past bba attack, seems better now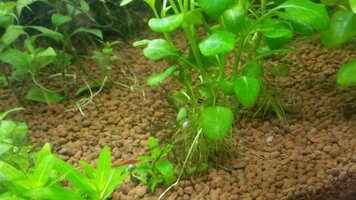 Here's stunted growth that its kind of new because before dosing urea/osmocote plant was stunted and developed side new growth, now they stunt and continue to grow in normal form as you can see (left stem of pogostemon erectus)
Another weird thing is that some stem looks damn healthy when other are kind of okay
Here's the nemesis Ammania golden, the stem is 3-4 week old, growth is really slow, don't know why either, drop checker is near and really green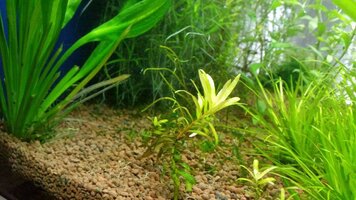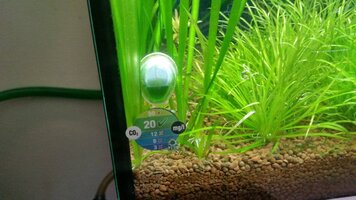 about a week ago in added Rotala walichii, it's okay so far, not stunted I think
Do you know which kind of vallisneria it is ? i know it's supposed to be a background plant but I use it to make the tank look deeper, kind of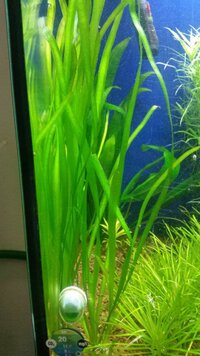 Thanks for reading, hopes you'll like that journal, I'll keep that one updated
Last edited: