Joined

20 Apr 2020
Messages

80
Location
Morning everyone.
Apologies if this is in the wrong area. I thought it was DIY(ish)
I'm putting together my first aquascape and interested in using dead branches/twigs from cuts in the garden.
They're long dead, fruit tree (apple & pear) trimmings that we cut from our trees a couple of years ago.
After stripping the bark off and soaking they have these interesting patterns but also seem to go quite dark brown or black in places.
I haven't tried boiling yet but wondering if I should just bite the bullet and seek the usual commercial channels. A shame as some of the patterns are interesting.
Ive attempted to add photos but not sure if they will upload. Tapatalk doesnt seem to want to work on my mobile phone.
I've used 'thumbnails' option as I don't want to burden UKAPS' servers with big files (at least until I've read that it's ok to do so)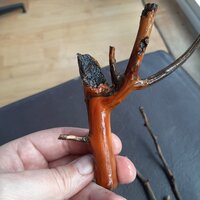 Grateful for thoughts/advice
Bg