Hi all,
I'm just starting to lay the substrate in my new 125L tank. I am using JBL Volcano Mineral as a base layer to both build some height and I believe it also allows water movement under the main substrate to prevent the it from becoming anaerobic. I have some ADA Amazonia substrate which I will be using on top of this in the planted areas.
My layout will have a fine sand beach cove at the front of the tank which is surrounded by some flat rocks to separate the area from the planted surroundings. My question is whether I should lay some of the Volcano Mineral under the sand in the beach cove area? I figure it would be a good thing for the same reason I'm using it elsewhere in the tank, however I do have a slight concern that due to it's low density the Volcano mineral may become mixed with or work its way to the top of the sand which would look ugly and is undesirable. If necessary I could put the Volcano Mineral in this area inside a large mesh filter bag but if my concern is really a non-issue then it's a waste of a few filter bags.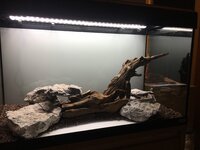 Thoughts and experience with this type of scenario would be appreciated.
Thanks,
Justin.