Hi There!

I have a 50x45x37(h) cm 80lt planted tank with a very big driftwood inside. I use an Eheim 2217 (~1.000lt/h theoretically) for filtration and I just very recently added an Eheim Nano filter (~300lt) to avoid any dead spots caused by the wood. My inlet and nano filter are hidden behind the wood and i use a lilly pipe for outlet.

Question is;
because my filter is way too powerful for the tank, my rotalas are having trouble with the flow. I can also use a spin pipe for the outlet however i am concerned that the distribution of CO2 and fertilizers will not be as even because of the huge wood. I am using an external atomizer (Up-aqua D508).

would you go with the spin pipe?

here is a recent picture of the tank.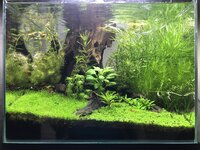 Regards,
Bora