Hi all,
I've recently set up my first high tech aquascape. I've been getting an algae that just doesn't go away. To try to address it, I've reduced the intensity of the lights (to 35%) and am doing two 50% water changes a week instead of one. This has helped a bit. It also seems the algae is most prominent on the right side of the aquarium.
Some pictures of the algae...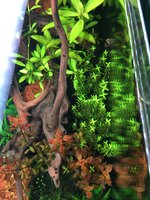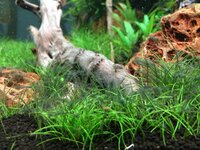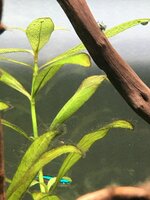 For the aquarium setup and tech and full scape pics, check out my
journal entry
.
Dosing is 2ml per day NILOCG Thrive all in one liquid fertilizer, .5ml per day Flourish Potassium, 2.5 bps c02, fish fed once a day.
Our house has hard water (I don't have anything to measure hardness).
The aquarium is situated in a room that has a window, but a white curtain covers the window, ambient light does come through the curtain, but it's not direct sunlight. The window is to the left of the aquarium.
C02 comes on at 11:30am, lights fully on at 4pm and off at 10pm (sunrise starting at 3:30pm, and sunset starting at 10pm - half hour each)
Nitrates are quite high between 40 and 80ppm before water change (I just discovered this today, and is higher than I'd prefer), and no ammonia or nitrites. Ph before c02 comes on is ~7.6, and ~6.8 to 7 after lights come on. Drop checker is close to a lime green when lights come on.
Any ideas to help get rid of the algae would be much appreciated! I'd like to deal with it before it gets worse.