Hello guys,
I`ve been reading this forum and various topics as an outsider, so thought I`d pop in and create and account.
I`m from Romania, living in Romania, and I`ve had aquariums ever since I can remember, but very low tech, usually a random commercial light bulb, some Vallisnerias and Egeria and lots of fish. Too many fish. Didn`t have much aquarium stuff in the 90s and early 2000s, and they were expensive aswell.
Took a break for a few years, but got back into aquariums like 4 years ago with a nano aquarium, and moved on to the current aquarium I have now, a Juwel Rio 125 with the stock MultiLux LED lighting fixture, both the Juwel Biobox and a JBL e902 canister filter. For substrate I have Tropica Aquarium Soil, and the plants are mostly easy and medium difficulty plants, Rotala H`Ra, Rotala sp. Green, Ludwigia Palustris, another plant which I can`t identify, but it looks like Ludwigia Glandulosa, Lilaeopsis Brasilensis, Lobelia Cardinalis "Mini", Hygrophila polysperma 'Rosanervig', Pogostemon Erectus, some Bucephalandra I got from a friend, and an Echinodorus. As fish, it`s just some Platys, Black Phantom Tetras, Corys and 3 SAEs that have begun eating my plants. Also using presurized CO2. Also have a smaller 54L (60x30x30cm) aquarium with some easy plants like Microsorum, Vallisnerias and some other plants from the larger aquarium, but that is with inert gravel, an internal filter and a cheap SunSun LED lamp.
Got into a bit of algae trouble, had a heatwave last week and aquarium temperature soared to 28-29 degrees, and my filter was clogged up, but it`s slowly improving with 2 times a week doing water changes and cleaning whatever algae I can. Looking into buying a new light soon, but still can`t decide what to choose, I`d rather keep the top on the aquarium, have a 2-and-a half year old boy and don`t want to take any chances, and the only plug&play is the Juwel HeliaLux. Also thinking of changing the substrate, it`s two and a half years old now and my troubles could be from that aswell.
This is probably my favorite picture, this was the peak of my setup, from last spring (picture was taken around March or April)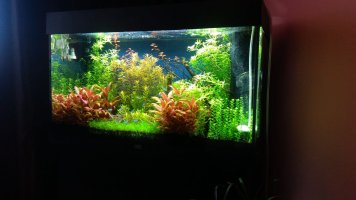 And this is from two weeks ago...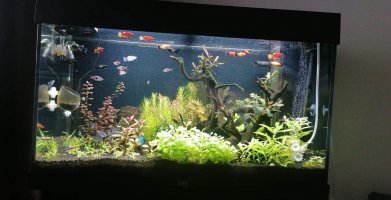 Worlds apart.
Anyway, looking forward to being here, I probably won`t post that much, but I`ll be reading the forum more.
Cheers!