Joined

11 Feb 2020
Messages

4
Location
Hi all
Help please? I have a planted tank 110L that is 5 weeks old. I have 15 guppies, 15 neons and 2 otos and a snail. Parameters are good (Ammonia/Nitrites/Nitrates are 0, KH is 12, Gh is 5 - I live in Switzerland so water is hard). PH is 8.2 but has been steady since day 1. Lights are now on 11 hours a day - to try to grow more algae!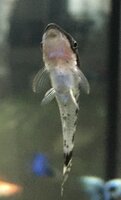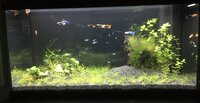 The problem is the tank is now sparkling clean and I am worried about supplementary feeding the otos because everything I try to feed them (as per advice from aquarium shop) seems to be a favourite of the guppies and they dont let the otos get to it.
I have tried feeding the Tetramin flakes then add the JBL Pleco tablet but the guppies eat the flakes then swarm the tablet as well. So the Otos dont get near it. Same issue with Blanched lettuce or capsicum or zucchini!
any advice? I am worried the Otos aren't getting enough food. Photo attached of the Oto's. Is this one ok or a bit skinny?
Any advice welcomed! Thank you!
Last edited: