The tank's set up and running now - so thought it time to start a journal!
After a lot of planning, saving and waiting our recent house move has meant that the fish can upgrade from their current 40litre cube to an AS900.
The tank arrived on Monday (two days after the plants - whoops), and had it's first water change this morning!
Kit list:
AS900
ONF Flat One (bought muchos reduced from Aquasabi - worked out cheaper than a twinstar!)
Eheim Pro 4 filter with steel inlet & outlet
CO2art inline diffuser connected to a 2kg FE
APS heater (did order an inline heater but it was DOA, so in the market for any inline heater recomendations anyone has!)
Hardscape is mini landscape rock and gnarled manzanita wood
Substrate/soil: JBL Volcano mineral, topped with a dennerle substrate starter and some tnc nutrient tabs. Topped with tropica soil.
Plant list:
Liliaopsis Novae-zelandiae
Marselia Crenata
Micranthenum Monte Carlo
Hemianthus Cuba
Hydrocotyle Verticilata
Blyxa Japonica
Juncus Repens
Crypt. Flamingo
Crypt. Petchii
Crypt. Undulatus Red
Crypt Wendtii Green
Crypt: Balansae
Rotala Pearl
Hydrophila Araguia
Nymphea Lotus
Rotala Orange Juice
Rotala Rotundifolia
Rotala Green
Rotala H'ra
Ludwigia Palustris
Hemianthus Micranthemoides
Cyperus Helferi
Limnophila Aromatica
Bolbitis Difformis
Bolbitis Heudolti
Microsorum Trident
Java fern
Anubias Petite
Anubias Bonsai
Anubias Coffeefolia
Buce. Wavy Green
Buce. Theia Green
Buce. Kedagang
Buce. Red
Buce. Mini needle leaf
Buce. Lamandau mini red
Fissidens fontanus
It's a long list but I wanted a good mix of colours and textures, and lots of them should hopefully blend together as they grow in.
Some photos of arrival and scaping: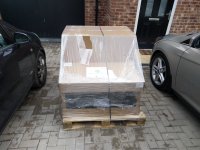 First filled (at 1am on tuesday!):
As it is now after adding some epiphytes from the old tank during the morning water change (please excuse reflections and dodgy phone pictures, they've come out more yellow than in real life):
CO2 has been on since it was first filled, and the drop drop checker is stubbornly remaining dark green. I lowered the filter outlet a bit more this morning to reduce surface agitation but it hasn't helped as much as I thought. Currently ~3bps, do I just need to up the bubbles? Lights are on 6hrs a day at 40% to start with.
Dosing a very imprecise amount of TNC complete - going to mix up some ei bottles over the weekend.
Thanks for looking!