I seem to be having issues with, as the title eludes, long term filamentous diatoms. Or at least that's what I believe they are.
From my research here and other sources the general consensus is this will burn itself out. Whilst that was the case with the dust type diatoms, I've not seen them for a couple of weeks now this stringy stuff just isn't backing off; if anything getting worse. They started to appear coming up to 4 weeks ago now, just on a few plants at first, they now cover most of the plants.
As you can see from the photos below it is quite bad, this is around 3-4 days growth.
Aquarium details
AS900
: 186 litres.
Planted
: 28 April - 2 months old.
Light
: Chihiros RGB Vivid - 70% from 15:00 to 20:30 with 30min ramp either side.
CO2
: From 13:00 to 19:30 - Light green drop checker / ~1.0 pH drop by 14:30 (light ramp start).
Ferts
: 15ml TNC Complete daily, dosed at 13:00.
Substrate
: Tropica Soil and Unipac sand path
Water Change
: 60% twice a week.
I'm currently removing as much of the filaments with a brush and syphon from the plants each water change. I obviously don't get them all but I'd say at least 75, maybe 90%.
So a few questions:
Is it 'normal' for this to last as long as it is, coming up to a month and seemingly only getting worse?
Do I continue as is, removing as much as possible each water change?
Should I up water changes?
Should I stop trimming back plants (mainly rotala each week) to leave as much mass as possible?
Do I just need to wait it out - how long before determining it's not just going to burn itself out?
Is it possible to be something in the water source?
Is it likely to be an inbalance (lights : ferts : co2) and if so what should be the first change?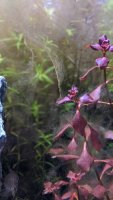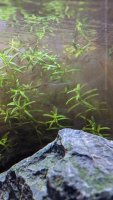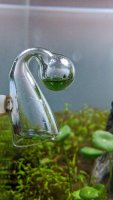 I'm not sure more details are needed but
here is the journal
to date (or 2 weeks ago).
Thanks and appreciate any help, getting a little frustrating and depressing.
Chris