Joined

8 Mar 2019
Messages

189
Location
Hi all,
Have setup my new 91l cube a few months after my previous tank cracked. I was really lucky with only a couple of dish deaths, but did lose a lot of plants, including my Blyxa Japonica which I was really annoyed about.
Loving the fish i have and the Neon Green Rasbora are the newest additions, they are bloody amazing, great contrast to the embers and CPDs. They are really lively, always out front at the top, and when doing maintenance they swim up to me and in and around my hand.
I would love to get a pair of showpiece fish, I would really like Apistos and German Blue Rams. What would work best in my tank? Or does anyone have other suggestions?
And again, thanks to everyone on here for the help and inspiration.


Full tank shot: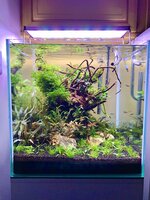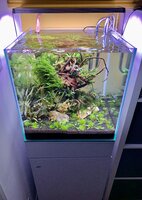 Title:
91L "Cubert"
Dimensions:
45x45x45cm
CO2
: Not at the moment
Filtration:
Hydor Professional 350 External
Lights:
Twinstar 450EA (Bloody love this light!)
Photo Period:
6hrs
Fertilisation:
Tropica Premium once a week and Osmocote Slow release plant food in the substrate
Substrate:
Prodibio Aquagrowth soil
Hardscape:
Old river stones/Millennium stone and Red Moor roots
Flora:
Microsorum ptetropus narrow
Trident Java Fern
Crypt. X willisii
Anubias Nana
Various Bucephilandra
Alternanthera reineckii mini (on it's last leg as it didn't like being in the temporary tank)
Cryptocoryne cordata
Mystery crypt
Hygrophila corymbosa thailand
Potamogeton Gayi
Ludwigia repens Rubens
Peacock moss
Weeping moss
Fissidens fontanus
Hygrophila pinnatifida
Hydrocotyle tripartita Japan
Eleocharis acicularis 'mini'
Fauna:
Sparkling Pearl Gouramis
Ottos
Ember Tetras
CPDs
Neon Green Rasboras
Nerite Snails
Red Cherry Shrimp