Joined

14 Oct 2020
Messages

40
Location
Hi all,
So thought i'd start up a journal thread which will help me to get some answers on some issue sim experiencing, more on that later.
So the tank itself is a Aqua One 55L cube (40 x 40 x 40) this is the version that does not have the internal filter compartment.
Filter is an eheim classic 250 using the spray bar. Inlet is back left and spray bar is along back wall projecting forward towards the front and pointing upwards as get to get surface movement.
Lighting is the Nicrew SkyLED plus
NO CO2
So initially when the tank was setup and scaped, plant wise, I only had some amazon swords and some dwarf hair grass and some what im assuming is rotala of some kind, I didn't really pay attention too much at the beginning in which i do regret now.
Picture of original tank at setup :
​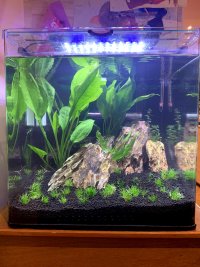 The tank was left to cycle and i eventually got there with the help of some of you and mostly calming my worries in another thread.
Since then I have purchased and added some HYGROPHILA DIFFORMIS WATER WISTERIA,
Elodea Densa
and Rotala Rotundifolia indica. Removed the sword on the left as it was massive and i felt it blocked the view and flow somewhat.
Stock wise, I gradually added ember tetras, galaxy rasboras and some 6 cherry shrimp (not all at once, this was over a few weeks)
Now this is where my issues/concerns have started......
I initially had some brown algae/diatoms which i started to try sort via 30-50% weekly water changes and wiping glass, leaves etc. However things have appeared to have gotten worse. I should add that I began dosing with Tropica Specialised and also got some surface plants to try help with the algae, and also started using liquid CO2
Tank as it stands today, notice the nasty brown algae on the rocks, the brown hairgrass and general brown tinge. I've also noticed some staghorn on some sword leaves which I simply snipped away but have since found more, and also noticing some long hair like algae.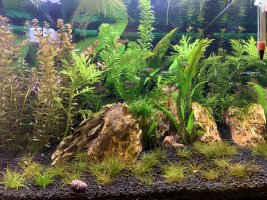 Tropica is use every 2 to 3 days and carbon daily as per recommended dosage on bottle.
I've also as of 4 days ago added a bristle nose plec and 2 nirite snails, yesterday I got 10 yellow shrimp from Steve Buce here on UKAPS.
I also have a film on the surface of the water which despite have surface agitation...doesn't go away.
I have reduced the lighting from 10 hours down to 7 hours as of yesterday/last night to try combat the algae.
I feel somewhat disheartened by the way the tank has declined despite my best efforts to it good, and I have read countless forums now on algae and how to combat, sometimes they can leave more questions than answers and i feel i just need a practical , idiots guide/advice on what to do to try combat this. I do realise a lot of the plants need some pruning as they are reaching the top of the tank now.
Anyways, that my descent into madness in a nutshell. I dont want to throw any more money at the tank in terms of CO2 solution and all the kit involved. I also understand a larger tank is more stable etc
Thanks for looking and look forward to reading your advice/comment/commiserations