New Member
Thread starter
Joined

27 Apr 2021
Messages

3
Location
Hello everyone!
I have been lurking on a number of different aquarium forums for some time, but as I continue to have less than desirable results for my tank I have finally decided to make an account here. Hopefully, the combined knowledge of all the smart people here will be able to push my tank in the right direction because frankly, I am feeling a bit worn out from my 'fight' in getting this tank to a nice stable condition. I have not given up hope yet, but something needs to change.
Okay, first some context. I started out with this hobby some 7 years ago I think, at the time I had a smaller tank of about 60* 30 * 40 cm. I had some smaller issues, but at the time, some plants growing too well was the largest issue I faced
. I kept that tank for a year or two and then decided that I would like to have some more room to play around with, as I figured out that I really liked to keep plants in the aquarium and that fish are more of a supporting element for me. So I upgraded to the tank I still have today, a 100 * 45 * 40 cm tank. Even though I have gone through multiple complete teardowns and re-designs since, I have never been able to get this tank nicely balanced for an extended period of time. Such a redesign of the tank usually happened at the point that I thought that there was no coming back from the current situation. Of course, trying the exact same thing again will likely result in the same outcome, so I did seek out local fish shops and help online in order to try and get my tank 'just right', which resulted in changes in lighting, filtration, substrate and fertilisers over the iterations. As you might have guessed however, I am not quite there yet.
So on to my current tank, first some details:
As I mentioned before, the current tank is 100 * 45 * 40 cm (I am assuming ~ 135 litre water).
The current setup is over a year old.
Filtration is done by a fluval 306
Lighting: 2 white 5050 SMD LED strips (60 leds / m, advertised as 1020 lumen per meter) and one RGB led strip that I use for coloration. These white strips are currently on for 8 hours a day at 50% output. Some months ago these were on 75% but I got algae issues so I decided to lower them. (I really wish par meters were cheaper so we could easily compare 'light intensity' between setups..) These strips are fixed to aluminium profiles which rest on the side of the tank, so a few centimetres above the water surface.
Substrate: Tropica aquarium soil.
CO2: No dosing (As a student I am really trying to keep cost down, so I'd rather not start CO2 dosing if possible)
Fertilizers: Two times per week NPK, two times per week micro. I started this specific dosing regime 5 weeks ago based on internet recommendations because I noticed holes forming in the older leaves which eventually completely broke down. I have the impression that the new dosing has significantly decreased this problem at least. The specific ratios I add: 1 ppm PO4, 10 ppm NO3, 15 ppm K per week (dry salts premixed, half on Monday, half on Thursday), and easy life profito for the micro side of things, a little higher than their recommended dose (15 ml, half on Tuesday, half on Friday). These numbers were advised by... a website that I can't remember at the moment...
Water changes: I change 50% of the water once per two weeks.
Fish: 15 Neon tetra's, 6 otocinclus (I would like to get some more) and one very shy Ancistrus.
On to the pictures of my tank.
Overview of the entire tank (sorry for the glare!)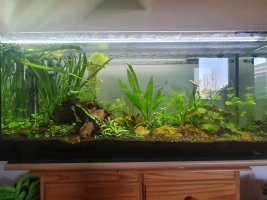 Some closeups of plants that are not doing great:
Limnophilia: New growth looks nice and green, older growth (even close to the water surface) quickly turns brown (not the red tint you would expect from being close to the light if that is not clear from the image).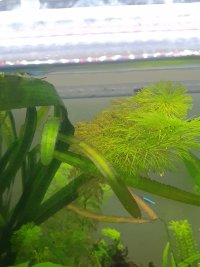 Lotus: Some of the new leaves are still getting dark spots / holes / deteriated edges, even though there also plenty of leaves which look fine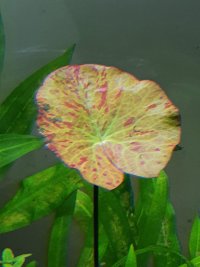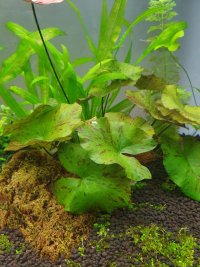 New growth on Rotala is also green (but I think rather small) and suffers from the same problems as Limnophilia with older leaves not lasting long.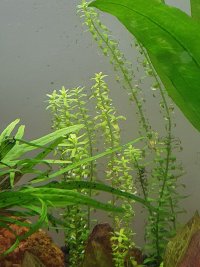 Then, a plant that had been doing great until about a week ago, my Microsorum Pteropus Trident. About a week ago, I saw a grey / black spot on one of the leaves which seemed to spread (or they all suffered from the same unknown change in the aquarium) and almost completely obliterated the leaves on all the plants. I tried removing the affected leaves but it still spread /affected the other leaves as well. This is one of the few plants that seemed to be doing well before.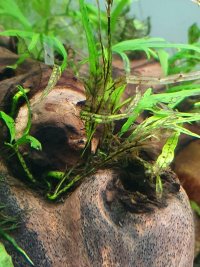 The plant I am trying to grow at the fron is the Marsilea Hirsuta. I knew beforehand that this plant was going to be a bit of an experiment but I am not sure what to do with it. On the one hand, the rough texture of the substrate makes it so that my Ancistrus regularly uproots these tiny plants. As you can also see the older leaves don't look great and BBA are starting to grow on/ near to these plants. However, I can also see plenty of new growth coming out from beneath the substrate. I have tried removing the worse looking parts, but I often uproot the new growth as well when doing so. Is there a future for this plant with my setup?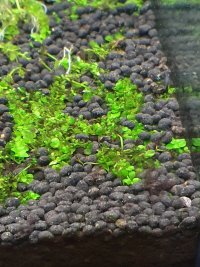 Finally, I would like to add a picture of some floaters I have, as perhaps some people experienced in the 'duckweed index' will be able to say something meaningful about my tank by looking at it, even though it is not duckweed
. I have also added a picture of my Echinodorus 'ocelot' as it has been getting extremely red new growth. I know coloration is also related to nutrients so perhaps someone is able to use this as some meaningful indication.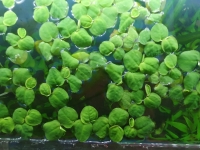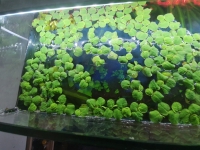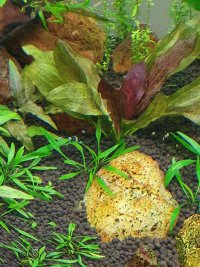 So that turned out to be quite a long read, thank you if you made it all the way here! As you can see from the images, plant health is far from optimal. I expect that the BBA and some minor other algae that I have been seeing are related to this fact. I also notice that I have a 'protein layer' (not sure what the correct english term is) on top of the surface. I tried to combat this with the custom spraybar that I made but I suspect the source of the problem is the leaves of the plants breaking down. I am currently working on getting a water report for my local tap water to see what elements are already in there.
As I mentioned at the start of my post, I have tried quite a number of things so far and I just can't seem to get consistent (even if slow) healthy growth. I am open to any suggestions people might have. If I missed anything that could help with giving advice, please feel free to ask and I will respond as quickly as possible.
Thanks for sharing your knowledge!
Cheers!