Hi All!
Having a little TDS trouble, I bought a TDs meter to check my tank water as I am keeping shrimp, as it was a cheap TDs I decided to buy some 342 solution and my meter reads way high, around 422.
Decided I would buy a more expensive calibratable TDS meter to be sure, few days later it arrives supposedly calibrated so I test the 342 solution again and it reads high again around 405, I re calibrate the meter with the supplied solutions and test again, now it reads around 530!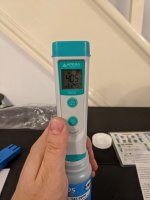 Do I have two faulty meters or faulty test solution? The solution was brand new and only used for these tests, now I have no idea which way to go with my water.
Hope you can help me
Thanks
Matt